My oldest son, Jack, has a space between his two front teeth. It's definitely hereditary as my husband and father have one as well. I love this space...Jack wouldn't look like himself without it. The dentist loves this space too...he says that it means there's room for his permanent teeth. If that's the case, then I love this space even more because hopefully he won't need braces!
Jack has commented on this space before. Once he said, "Mom! Look! I lost a tooth!" When I asked where, he pointed to his space!
The other day he said, "Melody, I have a space between my teeth right here *pointing* just in case another tooth decides to grow in."
Check out how much character and personality this smile has!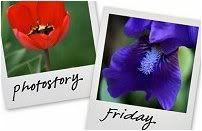 Hosted by Cecily and MamaGeek