My first little baby turned
five
today! Five.
It seems like such a large number. It's a whole hand!
It's hard to believe that five years ago our lives changed forever when we welcomed little John Marc into the world.

I thought he would

never

arrive, but after an impossibly long and painful a difficult labor, our little bruised, beat up guy arrived. He weighed in at 9lbs 4oz and 21 3/4 inches long (which explains that hard labor, no?) He was born at 8:42 p.m. which is

exactly

5 years before this post published.

I love this picture of him. My mother-in-law took it and named it "Buddha". It's one of the few calm, zen moments in Jack's life.

And since that fabulous day in June of 2004, our little guy has brought all kinds of smiles to our faces. There are just so many things we love about this guy.
(12 months old)
His adventurous spirit that's always full of energy
(2 years old)
his

talkative

nature
(almost 3)
is love of funny faces
(at his 3rd birthday party)
his love of all things truck and John Deere
(at his 4th birthday party)
his extreme, contagious silliness
(5 years old)
And these traits are just the tip of the iceberg on who Jack is.
Happy, happy birthday to our sweet, precious baby who's grown into such a wonderful boy. We love you more than we could have ever imagined. You make our hearts happy.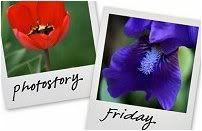 Hosted by Cecily and MamaGeek