Remember this?
Well, Tuesday morning, Melody decided to wear her big girl panties



and



has been wearing them ever since!

Right before my eyes, my

little

girl took one step closer to becoming my

big

girl.

I would be getting a little teary eyed if I wasn't so elated that I'm only changing

one

child's diapers now.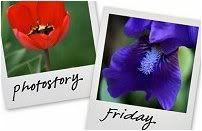 Hosted by Cecily and

Honey Mommy