One of my favorite activities has always been to decorate the Christmas tree.

(For the record, I have always

hated

un-decorating it.)

Early on in our marriage, Alex and I started the tradition of watching the best Christmas movie ever while decorating.

A few years ago, due to a little boy (and now a girl too) who likes to repeat things, we opt to wait until bedtime before turning on the movie.

This year, however, we decorated so fast that we wouldn't have time to get past the first few scenes anyway.

Why is that?!

Because we only had to decorate the top half of the tree, of course!


We put a few child-friendly

(read: non-breakable, non-chokable, non-flushable)

ornaments on the bottom.

Which were quickly removed by a certain someone with sticky fingers

(literally and figuratively)

.

Fully or partially decorated, we still think it's a beautiful tree!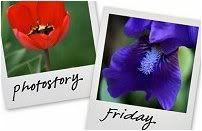 Hosted by Cecily