I truly have an

infinite

number of things to be thankful for.

I'm pretty sure I would run out of paper if I tried to write them all down. Or I would get a hand cramp.

However, these three children are at the top of my list.



(Sorry the picture quality isn't that great. Since I forgot to pack my camera cord, I took these with my cellphone.)



They follow

very

closely behind their wonderful daddy and my handsome husband.


Yes, there is a plethora of blessings in the Powell household.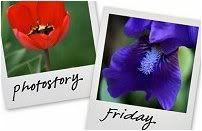 Hosted by Cecily