My kids are talkers.

Ok, Charlie doesn't talk yet, in English anyway, but believe me, he definitely contributes to the noise level.

Melody and Jack however cannot. stop. talking. They mostly talk at the same time about completely different things which means the noise level at my house is comparable to the airport. Anyone who's been here can attest to that fact.

However, living with talkers does means that I get to hear some pretty funny stuff.

The other day Jack was counting for a long time. "Jack, how high can you count?" I asked, hoping that he would only say 30 or so.
"I can count to ten hundred," he answers very matter of factly.

Jack coming back in the room after brushing his teeth, "Whew. I am exhausted! I brushed every tooth!"

Jack's class went to the dairy last month. On the ride home, he was telling me about how they saw a cow get milked. "It was a girl cow," he said, "Her name was Rose."
"Oh, how did they milk her?" I asked.
"Well, they hooked up this big machine to her gutters."

He also told me how excited he was go get a break from all his school work to go on the field trip. "Day before day, we always work!" he exclaimed.
"You mean, day after day?" I asked.
"Oh, yeah!" he said.

*************************************************

As Melody's teacher was buckling her in the car last week, Melody was playing with the buttons on the teacher's shirt. "I like your buttons," said Melody
"Thank you," said Teacher.
"I like your boobies too," said Melody.

We received Rice Krispie Treats as a party favor from a very fun birthday party we attended over the weekend. When we got home, Melody showed her's to Alex and said, "Look! I got Christmas treats!"

Melody loves oatmeal. She has been asking for it a lot. Today, after I dropped Jack off from school she said, "Mom, you go make some oatmeal and I'll eat it all up! Isnt' that a great idea?!"

And her latest obsession: ghosts. "A ghost says boo (sounds like she simply blew out a puff of air) and it scares you and then you run."

*************************************************

Along with all this talking, we've also been doing a lot of jumping, frolicking, and falling...it's finally Fall here! After weeks of looking at everyone else's beautiful fall foliage, I'm happy we finally have some of our own.


I'm very flattered that Cecily asked me to co-host with her this week. If you haven't been over there you should definitely stop by. Her creative talents are far superior to mine and, with three adorable muses, she has lots of great blogging material.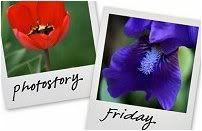 Hosted by Cecily and Emily

To play PhotoStory Friday, check this. Copy this code into your post and sign Sir Linky: